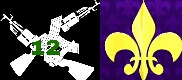 Mercenaries vs Saints is a no longer running fanon Timeline where a gang led by a group of ex Mercenaries go against the Third Street Saint's in both Stilwater and Steelport. Takes place after Saints Row the Third.
Mercenary 12
Name of both the ex Mercenary group and of the new gang. Mercenary 12, orginally named Marauder 12, was created during World War 1 as a small lone resistance group of 12 later turned gang during the second generation of Mercenaries. This tradition continued to the current generation of the story where leader, David Keller, has declared war on Saints while backed up by his surviving Mercenary teammates.
Chain of Command in Mercenary 12:
1.
2.
3.
4.
5.
6.
7.
8.
9.
10.
11.
12.
Ad blocker interference detected!
Wikia is a free-to-use site that makes money from advertising. We have a modified experience for viewers using ad blockers

Wikia is not accessible if you've made further modifications. Remove the custom ad blocker rule(s) and the page will load as expected.