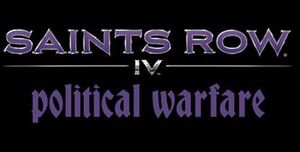 Political Warfare is a standalone expansion pack for Saints Row IV. It got a sequel in 2017 titled Political Warfare: The New Election.
Setting
Political Warfare takes place in a fictional version of Washington D.C. and also in Steelport, which was a setting in Saints Row: The Third and Saints Row IV. It takes place in the five-year gap between the missions "Zero Saints Thirty" and "The Saints Wing" from Saints Row IV.
Plot
After the assassination of Cyrus Temple The Protagonist gets to work along with the Saints to reach the highest and most important part of his career - entering office at the White House and becoming President. However political rival and ex-Saints member Dexter Jackson cheats his way into winning the presidency by putting Washington D.C. into lockdown, and declaring the Protagonist along with the Saints public enemies.
The Protagonist must gather his friends while trying to take down Dex's super army of Masako soldiers and save America from his dictatorship and possible global domination.
The standalone plot allows fans to finally get their revenge on Dex and wrap up his story after Saints Row 2: Corporate Warfare.
Cast
Troy Baker/ Laura Bailey/ Robin Atkin Downes/ Kenn Michael/ Diane Michelle/ Sumalee Montano/ Nolan North as The Protagonist
Keith David as Keith David
Terry Crews as Benjamin King
Arif S. Kinchen as Pierce/ President Dexter Jackson
Danielle Nicolet as Shaundi
Yuri Lowenthal as Matt Miller
Rebecca Riedy as Asha Odekar
Mark Allan Stewart as Oleg Kirrlov
Sasha Grey as Viola DeWynter 
Natalie Lander as Kinzie Kensington
Alex Désert as Zimos
Andrew Bowen as Josh Birk
Laura Hendler as Jane Valderrama
Rick D. Wasserman as Eddie 'Big Pussy' Pryor
Michael Rapaport as Special Agent Troy Bradshaw
Brandon Keener as Tobias
Tasia Valenza as Monica Hughes
Steve Blum as Zombie Gat
Trivia
The title Political Warfare takes a similar title to Saints Row 2 DLC Corporate Warfare, the last game to star Dex.