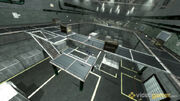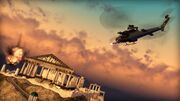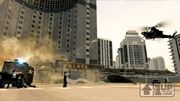 The Last Revenge is the last of the three DLC packs from Saints Row 2.
Plot
In this DLC you have to search for Dex and kill him. Three missions, same as the other two DLC packs. In the last 2 missions you have to go to a new city (only a part of it).
Characters
Missions
Streetwar
Almost At The Top...
Dexecution
New Features
Hair:
Old man
Electricity Attack
Bird
Medium Dreads (Mr Sunshine)
Big Afro

Tattoo:
Head Wolf (Maero)
Mouth Flowers
Saints Back and Front Together
Clothing:
Leather Jacket
Brotherhood Outfit
Ultor Security Outfit
Saints Hat
Soccer Hat

Vehicles:
Star (Super Boat)
Ringer (Passenger Plane)
Oliviver (Mini Boat)
Manchester (Britisch Red Bus)
Prospresper (Car)
Killerflee (Car)
Ration (Dex car, after the last mission you have unlocked it)
Ad blocker interference detected!
Wikia is a free-to-use site that makes money from advertising. We have a modified experience for viewers using ad blockers

Wikia is not accessible if you've made further modifications. Remove the custom ad blocker rule(s) and the page will load as expected.