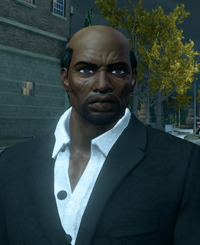 Samuel Robertson was a senior police detective in the city of Steelport who had tried to fight against the corruption from within the Steelport Police Department. He was found dead at his apartment, with a gunshot wound to his head and the post mortem gave it as a suicide. His son Michael took up the mantle of Chicken Man in order to fight against the crime in Steelport and find out the truth behind his father's "suicide".
Ad blocker interference detected!
Wikia is a free-to-use site that makes money from advertising. We have a modified experience for viewers using ad blockers

Wikia is not accessible if you've made further modifications. Remove the custom ad blocker rule(s) and the page will load as expected.