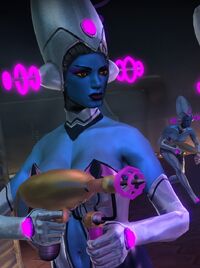 The Space Amazon is a "fictional" alien race that appear in the film Gangstas in Space.
Description
Mr. Sinister snatches some female alien stars from the Gangstas in Space set in order to full fill some of his clients "blue" fetishes and the market for some alien action.
Trivia
In a situation where life mimics art, Steelport (along with the rest of the earth) found themselves attacked by the Zin Empire a year and a half after the filming of Gangstas in Space had finished.
Appearances
Saints Row series
Fan Fiction
External links
For in-game information, see the Space Amazon article on the Saints Row Wiki.
Ad blocker interference detected!
Wikia is a free-to-use site that makes money from advertising. We have a modified experience for viewers using ad blockers

Wikia is not accessible if you've made further modifications. Remove the custom ad blocker rule(s) and the page will load as expected.