I've been a published writer for over 30 years, working mainly in comics. I've also been a gag writer, worked for TV and radio and dabbled in gonzo journalism. Currently part of Queer Messia Media Inc, (with fellow writer Chris Madoch and artist Dan-Paul Flores) we intend to publish a graphic novel later in the year. Meanwhile, addicted to computer games and, in a fit of what I can only describe as utter madness, I've decided to use screenshots to create comics. http://gamesrecycled.blogspot.co.uk/
The story lines in Saints Row are simplistic. There are no complex storylines and the characters are painted black and white. So don't expect any deep psychological motivations. (Ironically I used to be a psychotherapist in a Young People's Unit). And they're scatological. But these elements are also found in the game itself. The dialogue has been kept short and pithy. I'm a DC Thomson trained comics scriptwriter and they didn't go for Shakespearian soliloquies!  The Dead Rising 2 and Max Payne comics also contain "adult material." Simply because I enjoy writing that sort of stuff! Mafia 2, however, is an exception. This involves a would-be comedian called Bob Hope and his efforts to break into showbiz. The problem is Bob has no sense of humour whilst everyone around him is capable of cracking gags. Any resemblance to the real Bob Hope is purely deliberate.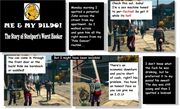 Ad blocker interference detected!
Wikia is a free-to-use site that makes money from advertising. We have a modified experience for viewers using ad blockers

Wikia is not accessible if you've made further modifications. Remove the custom ad blocker rule(s) and the page will load as expected.